By Peter Tijerina - March 25, 2022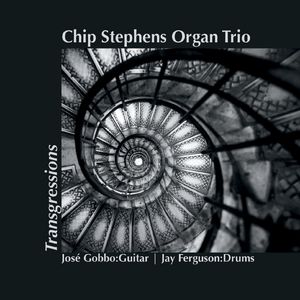 Transgressions. Chip Stephens Organ Trio: Chip Stephens (organ), Jose Gobbo (guitar), Jay Ferguson (drums). CDBaby, 2022. "Along Together" (Arthur Schwartz), "Nardis" (Miles Davis), "Have You Met Miss Jones?" (Richard Rodgers), "Ah Leu Cha" (Charlie Parker), "Tenderly" (Walter Gross), "Norwegian Wood" (John Lennon, Paul McCartney), "A Night In Tunisia" (John Gillespie), "The Iron Post" (Chip Stephens).
Pianist, organist, band leader, and professor Chip Stephens' Transgressions captures the intimate jazz trio setting performing Great American Songbook and jazz standards, but with a splash of modern phraseology. The listener is transported to a myriad of musical happenings, both past and current, including gospel church services, mid-twentieth-century jazz clubs, and present-day jazz concerts. The intricate colors and textures Stephens' pulls out of the organ on "Tenderly" and "Norwegian Wood" give this album a unique luster. Of course, his improvisatory creations are written with his signature in bold. Jose Gobbo's guitar fuses seamlessly with the organ as it takes adventurous solos which are grounded in the jazz tradition. Jay Ferguson's fiery in-the-pocket drumming and cymbaling are the perfect match to complete this trio of jazz virtuosos. "Norwegian Wood" is a refreshing instrumental take on the Beatles classic. A swinging and bluesy tribute to the legendary Midwest venue, "The Iron Post" serves as a satisfying ending to the album. Transgressions is a delightful album for jazz lovers alike.